**Please note this product has to be shipped frieght on the pallet due to sensitive componets and value of these machines** Please contact us at sales@sonicsupply.com or call us at 844-977-6642 for a custom freight quote to your location** Also feel free to contact us if you require any accesories or parts we don't have listed for this VELP Scientifica equipment
Improves Analysis
Hydrolysis / digestion by acid or base
Ensures conformity with AOAC standard
No sample transfer – no sample loss
Operator Safety
Reduces handling to a minimum
Automatic extraction of unwanted fraction
No exposure to vapors
Recommendations
Select a glassware kit and accessories to match workload

Hydrolysis is carried out with hydrochloric acid for approximately 60 minutes at 170 °C.

The hydrolyzed sample is then filtered in a glass crucible and washed with warm deionized water in order to eliminate the residues of hydrochloric acid

| | |
| --- | --- |
| GENERAL FEATURES | |
| Construction material: | epoxy painted stainless steel structure |
| Number of samples: | 6 samples |
| Set temperature: | display visualization |
| Countdown: | display visualization |
| Display: | LCD |
| Number of programs: | 20 |
| Selectable language: | I, F, UK, E, D, T |
| Power: | 1350 W |
| Dimensions (WxHxD): | 355x590x450 mm (14.0×23.2×17.7 in) |
| Weight: | 14.5 Kg / 32.0 lb |
| | |
| PERFORMANCE | |
| Temperature range: | from room temp. to 200 °C |
| Temperature calibration: | automatic |
| Stability of the heating block temperature: | ± 0,5°C |
| Homogeneity of the heating block temperature: | ± 0,5°C |
| Precision of the heating block temperature: | ± 0,5°C |
| Reaching of set temperature: | acoustic and visual signal |
Preliminary Hydrolysis, Significant Benefits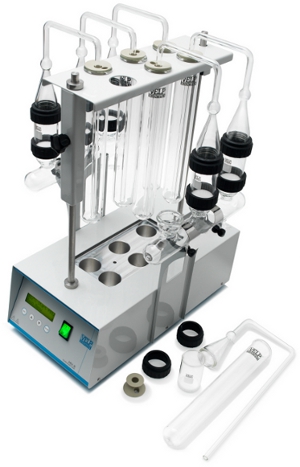 Perform single or multiple samples at the same time. HU6 is required for a preliminary hydrolysis, both for acid and basic hydrolysis, of food and feed samples prior to solvent extraction with
SER Series.
HU6 ensure fast heating and reduced time, with all the benefits of the aluminum block in terms of temperature transmission and homogeneity.
No sample transfer prevents any possible sample loss, as the same crucibles can be processed by the solvent extractor SER.
HU6 needs to be combined with a dedicated glassware to be ready to use.